How did Putin's judo partner manage to avoid Western sanctions?
Everyone in Russia knows who Arkady Rotenberg is: a friend of Putin's who amassed a vast fortune during the presidency of his judo partner. He is a man who is making a killing by charging road toll on trucks through the Platon system (a government initiative that has led to recent mass protests of Russian truck drivers). He is a man who wants to make even more money by taking control of the Russian pharmaceutical market. He is a man who is building a bridge to Russian-occupied Crimea.
Arkady Rotenberg was added to the US sanctions list in March 2014 (along with his brother, Boris Rotenberg) and to the EU sanctions list in summer 2014, at the same time AS his most important asset, Severnyi Morskoy Put Bank (SMP Bank). VISA has refused to serve the bank since then. Although Rotenberg can no longer take his yacht or private jet to visit his villas in Sardinia, this does not really bother him as he has sent his "emissaries" to European countries to buy new assets that are not subject to any sanctions.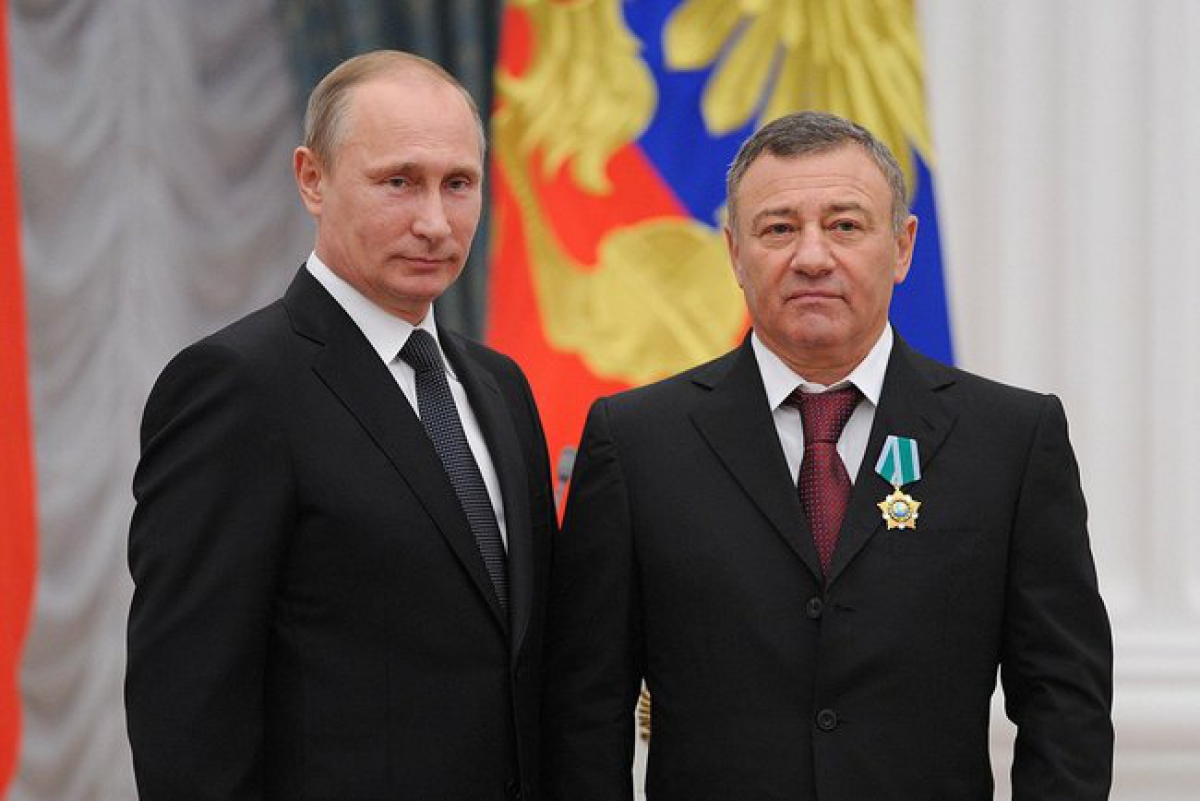 Arkady Rotenberg began training in martial arts (Sambo) in the same club as Vladimir Putin in 1964. This turned out to be the key to his subsequent success. After 15 years on the tatami, Putin, then chairman of the External Relations Committee of the St. Petersburg Mayor's Office, hired Rotenberg as one of his assistants. In 1998, Rotenberg and another childhood friend of Putin's, Gennady Timchenko, established a judo club called Yawara-Neva. Meanwhile, Putin moved to Moscow and became president. This is when Arkady Rotenberg's business really began to flourish.
In 2001, Rotenberg acquired SMP Bank together with Konstantin Goloshchapov (from the same martial arts club with Putin). In 2012, Forbes featured Rotenberg on its list of billionaires with an estimated fortune of USD 1 billion. In 2015, he came in second on a list of "Kings of Public Procurement" in Russia.
In 2002, SMP bank was joined by Dmitry Kalantyrsky, a Ukrainian national with both Ukrainian and Russian citizenship. Before joining Rotenberg's bank, Kalantyrsky worked for two years at the Russian real estate group Konti, and one year at Lefko Bank. Kalantyrsky brought along his own team to SMP Bank: his wife, Yulia Kalantirskaya, Denis Pospelov, and Yelena Rusyak.
In addition to being CEO of SMP Bank, Dmitry Kalantyrsky was in charge of the Cypriot offshore companies which managed Arkady Rotenberg's assets. In 2003-2004, Kalantyrsky owned Ermira Consultants Limited, which later became the owner of Rotenberg's liquor and media assets. In 2005, Kalantyrsky acquired 1% of shares in Olpon Limited, Rotenberg's main Cypriot offshore entity. Another Cypriot company, Olpon Investments Limited, owns 99% of Olpon Limited. Arkady Rotenberg has been the direct owner of Olpon Investments Limited since 2004.
After Russia's annexation of Crimea, a number of people in Vladimir Putin's inner circle were subjected to US and EU sanctions. Arkady Rotenberg was added to the US sanctions list on 20 March 2014 and to the EU sanctions list on 30 July 2014. Later, SMP Bank was added to both the US and EU sanctions lists as well.
In March 2014, VISA and MasterCard stopped serving payment cards issued to SMP Bank's clients. At that point, CEO Dmitry Kalantyrsky, who owned 11.18% of the bank's shares, joked:
"I discussed with my colleagues what effect the sanctions might have on our organisation and came to the conclusion that it would have no effect on the bank. However, just to be on the safe side, we decided not to say hello to our shareholders [the Rotenberg brothers] anymore."
Joking aside, the sanctions did, in fact, begin to have a negative impact on the business empire of the Rotenberg brothers. The events transpired rather rapidly:
In May 2014, Denis Pospelov quit of the Deputy Board Chairman of SMP Bank. However, Pospelov remained the nominal owner of the Cypriot-registered hedge fund, Owental Stock Investment Limited, which was unable to conduct transactions in Chicago due to the sanctions;

The same month, SMP Bank "sold off" its Latvian bank of the same name (later renamed Meridian Trade Bank) to the bank's management so as to avoid the risk of it ending up on the sanction lists;

In September 2014, Italian financial police,

Guardia di Finanza

, seized villas in Cagliari and Tarquinia, two villas in Arzachena, and Berg Luxury Hotel in the centre of Rome. According to the media reports, the villas were owned by Rotenberg's Cypriot offshore, Olpon Investments Limited. The same company was the owner of Rotenberg's private jet, a Bombardier Global 300.

One of the villas of Arkady Rotenberg in Sardinia
According to the official documentation of Olpon Investments Limited, the company had pledged shares in Aruba-registered Olpon Aviation AVV as a bank collateral. In 2014, the Dutch magazine, Vrij Nederland, reported that Olpon Aviation AVV was owned by Arkady Rotenberg as well. The company owned a Bombardier Challenger 850 jet with the tail number P4-GJL.
A few months after the imposition of the sanctions, Rotenberg began using entities nominally owned by Dmitry Kalantyrsky to develop his hotel business. The Cypriot offshore company, Kartamon Technologies Limited, acquired two four-star hotels, Hotel Sonnenalpe and Hotel & Spa Wulfenia, in the Austrian ski resort of Nassfeld near the Italian border.
Rotenberg's partner at Sonnenalpe Hotel was the family of the Italian interior designer, Silverio Marian, who did business in Russia. The hotels were operated by Austria's Falkensteiner Michaeler Tourism Group. The director of Family Resort Sonnenalpe was Josef Anton Wieser employee of the Austrian law firm, Aviajur.
However, the link between the Rotenberg brothers and Kalantyrsky still looked too obvious, so they soon decided in favour of a "fake divorce."
In February 2015, Kalantyrsky suddenly left the post of Board Chairman of SMP Bank and sold off his 11.18% stake in the bank to Stroygazmontazh, fully owned by Arkady Rotenberg, for an undisclosed price. A year later, in February 2016, Kalantyrsky quit the board of Moskovskiy Oblastnoy Bank (Mosoblbank), which was fully owned by SMP Bank.
In December 2014, prior to his withdrawal from SMP Bank, Kalantyrsky transferred his Cypriot offshore, Kartamon Technologies Limited, to his mother, Hanna Kalantirskaya. The offshore company owned the Russian company GammaLine. The company owned a business hotel on Moscow's Vtoraya Vladimirskaya Street, where SMP Bank had one of its offices.
Until 30 December 2016, GammaLine was owned by the Cypriot-registered company, Fayblue Holdings Limited, which owned a manor in Prague (Nad Výšinkou 1259/17) since April 2015. According to the names at the property's mailbox in April 2017, the manor's resident is Dmitry Kalantyrsky himself.
Until November 2016, Fayblue Holdings Limited was nominally owned by Belserve Consultants Limited and Vaspaco Properties Limited. The same two companies used to own the Cypriot offshore company Milasi Engineering Limited, which was the owner of the Rotenberg brothers' construction company Stroygazmontazh. The one which Kalantyrsky had transferred his shares in SMP Bank to.
On 20 April 2015, Dmitry Kalantyrsky and his mother registered a new company, ARDRA, in the Czech Republic. In August 2015, the company acquired an apartment in the downtown of Prague (Dlouhá 727/39). In February 2016, the Kalantyrsky's registered another Czech company, DK Properties.
The scheme is not a simple one but still clearly traceable. We can see how the sanctions have forced Arkady Rotenberg to distance himself formally from his business partners and financial trustees in order to protect his EU assets. He has managed this quite well. Maybe the EU and US authorities should think about adding to their sanction lists not just the "main protagonists," but their entourage as well. Otherwise, we are afraid that the sanctions will only have a minor effect.
Translation: Kerkko Paananen