Arkady Rothenberg: Cyprus is ours!
Nothing personal, it's just business.
We recently told you about the way Arkady Rotenberg decided to circumvent the EU and US sanctions by sending his financial administrators to the Eastern European countries. The first such authorized representative was the longtime chairman of the SMP Bank's board Dmitry Kalantyrsky, who settled in the Czech Republic. We also mentioned a number of Cyprus offshores. Today we want to speak about them in detail and reveal who services the Rotenberg family's empire at Cyprus, and what the bankruptcy of Tatarstan banks, money laundering through Moldova and the Cypriot Minister of Justice all hаve to do with this.
In the first part of our investigation, we mentioned Arkady Rotenberg's key asset, Olpon Investments Limited. Through this company Arkady owned the Italian villas that were arrested in September of 2014 by Italy's Guardia di Finanza. The company is 100% owned by Rotenberg and he ramained its director up until October 2015, when he transferred the management to the Cypriot company Dibelia Ltd and Dismak Services Limited from the British Virgin Islands.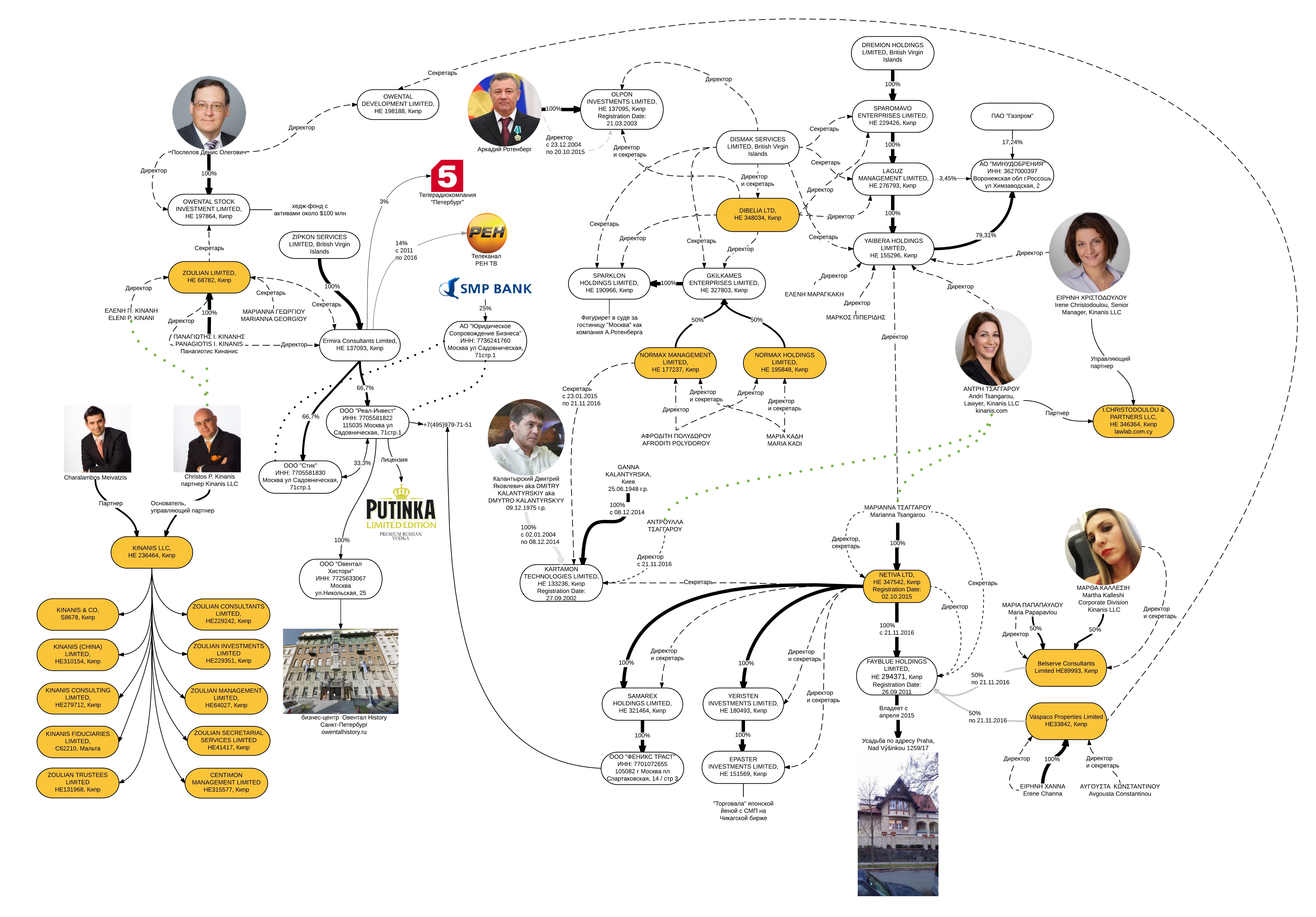 We also told you that in December of 2014 Dmitry Kalantyrsky transferred the Cypriot company Kartamon Technologies Limited to his mother. It was through Kartamon Technologies that Kalantyrsky owns a stake in Austrian hotels. In December 2016, Dmitry was replaced as the director by the Cypriot nominal director Androulla Tsangarou (ΑΝΤΡΟΥΛΛΑ ΤΣΑΓΓΑΡΟΥ). The company's secretary, instead of Normax Management Limited and Zoulian Limited, is now Netiva Ltd.
In November 2016, the company Fayblue Holdings Limited, which has owned a mansion in Prague, the residence of Dmitry Kalantyrsky and Karolina Khelisova, since April 2015, was also transferred into the ownership of Netiva Ltd. Netiva Ltd itself is 100% owned by its nominal owner Marianna Tsangarou (ΜΑΡΙΑΝΝΑ ΤΣΑΓΓΑΡΟΥ).
Up until November 2016, Fayblue Holdings was owned by two Cypriot companies, Belserve Consultants Limited and Vaspaco Properties Limited. And we want to talk about them in greater detail.
Both of these nominal companies have been mixed up in the fraudulent money laundering scheme involving Moldova, which was uncovered by OCCRP (Organized Crime and Corruption Reporting Project). They were the shareholders of Prevezon Holdings Limited, owned by the Russian entrepreneur Denis Katsyv (son of the Russian Railways Vice President Petr Katsyv). Right now, this story is a subject of litigation in one of New York courts.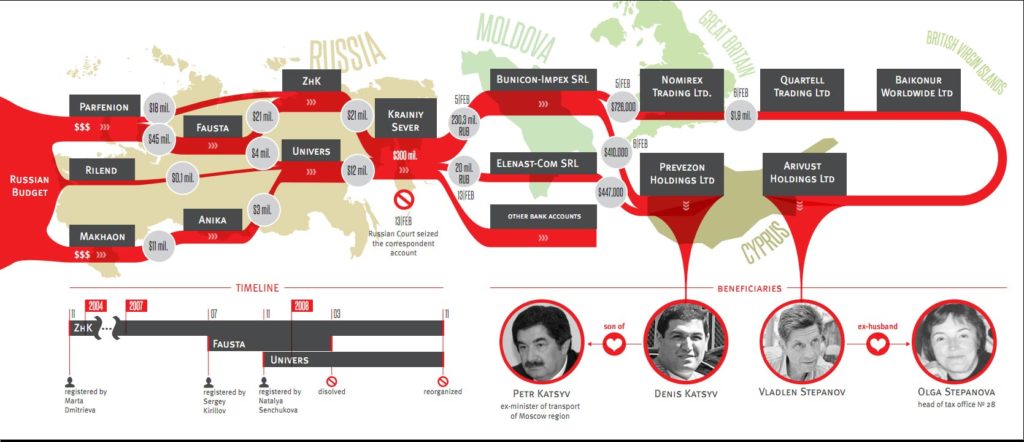 Prior to that, the companies Belserve Consultants and Vaspaco Properties were intolved in the Greek case on launderng of €10.2 bln via the real estate agency headed by lawyer Yanis Karouzos. The Greek media wrote that in the course of the investigation by the Greek authorities it was discovered that yanis Karouzos and a network of his companies were implicated in arms trading and laundering money from Russia, and that a number of witnesses from Russia have already been eliminated.
Before 2009, both Cypriot companies also owned shares in Volgogaz, Volgogradneftemash, Lengazspetsstroy and the Cypriot firm Milasi Engineering Limited, which until August 2014 owned Rotenberg's company Stroygazmontazh LLC. Today, Belserve Consultants and Vaspaco Properties control 20.24% of shares in Tatfondbank, which collapsed in 2017, and through Morelam Holdings Limited own 1.82% shares in Russia's Expobank, and through Pointer Trading Limited — the Bulgarian company Euromangan, which extracts manganese at the Obrochishte mine.
Vaspaco Properties Limited is 100% owned by Erene Channa (ΕΙΡΗΝΗ ΧΑΝΝΑ), while Belserve Consultants Limited is half-owned by Maria Papapavlou (ΜΑΡΙΑ ΠΑΠΑΠΑΥΛΟΥ) and Martha Kalleshi (ΜΑΡΘΑ ΚΑΛΛΕΣΙΗ). All of these people are Cypriot "nominal officials."
Before moving on to conclusions, let's run through a number of other Cypriot companies that are directly connected to Arkady Rotenberg and his managers.
In 2012, the US Commodity Futures Trading Commission (CFTC) fined the Cypriot company Epaster Investments Limited and SPM Bank abou $1 mln  for engaging in a wash sale scheme in the Japanese Yen options contract on the Chicago Commodity Exchange. The Cypriot company in question is also owned by Netiva Lt, and earlier it was owned by Elena Ruzyak, a top manager of the SPM Bank and a member of Kalantyrsky's team.
In 2011, Laguz Management Limited and Yaibera Holdings Limited purchased a controlling stake in the Rossosh-based company Minudobreniya from the Norvegian firm Yara. The $1.3 bln purchase of Minudobreniya was financed by Gazprombank on the security of the Cypriot offshores. The ultimate owner is hidden behind the Dremion Holdings Limited company registered in the BVI. Companies Laguz Management and Yaibera Holdings are managed by Dibelia Ltd, Andri Tsangarou (ΑΝΤΡΗ ΤΣΑΓΓΑΡΟΥ) and Irene Christodoulou (ΕΙΡΗΝΗ ΧΡΙΣΤΟΔΟΥΛΟΥ).
Ermira Consultants Limited has been managed by Panagiotis I. Kinanis (ΠΑΝΑΓΙΩΤΗΣ Ι. ΚΙΝΑΝΗΣ) and Zoulian Limited since 2003. In this time period the company has had several owners. Between April 2003 and August 2004 the company was owned by Dmitry Kalantyrsky. Later, the company was transferred to Vladislav Kopylov, the business partner of Sergei Roldugin (another childhood friend of Vladimir Putin). After the journalists from RBC began their investigation to reveal the real owner of the license to Putinka vodka and Crystal Distillery, in March of 2015 Ermira Consultants Limited was transferred to the nominal company Zoulian Management Limited, and in February of 2016 it was re-registered in the ownership of Zipkon Services Limited (BVI).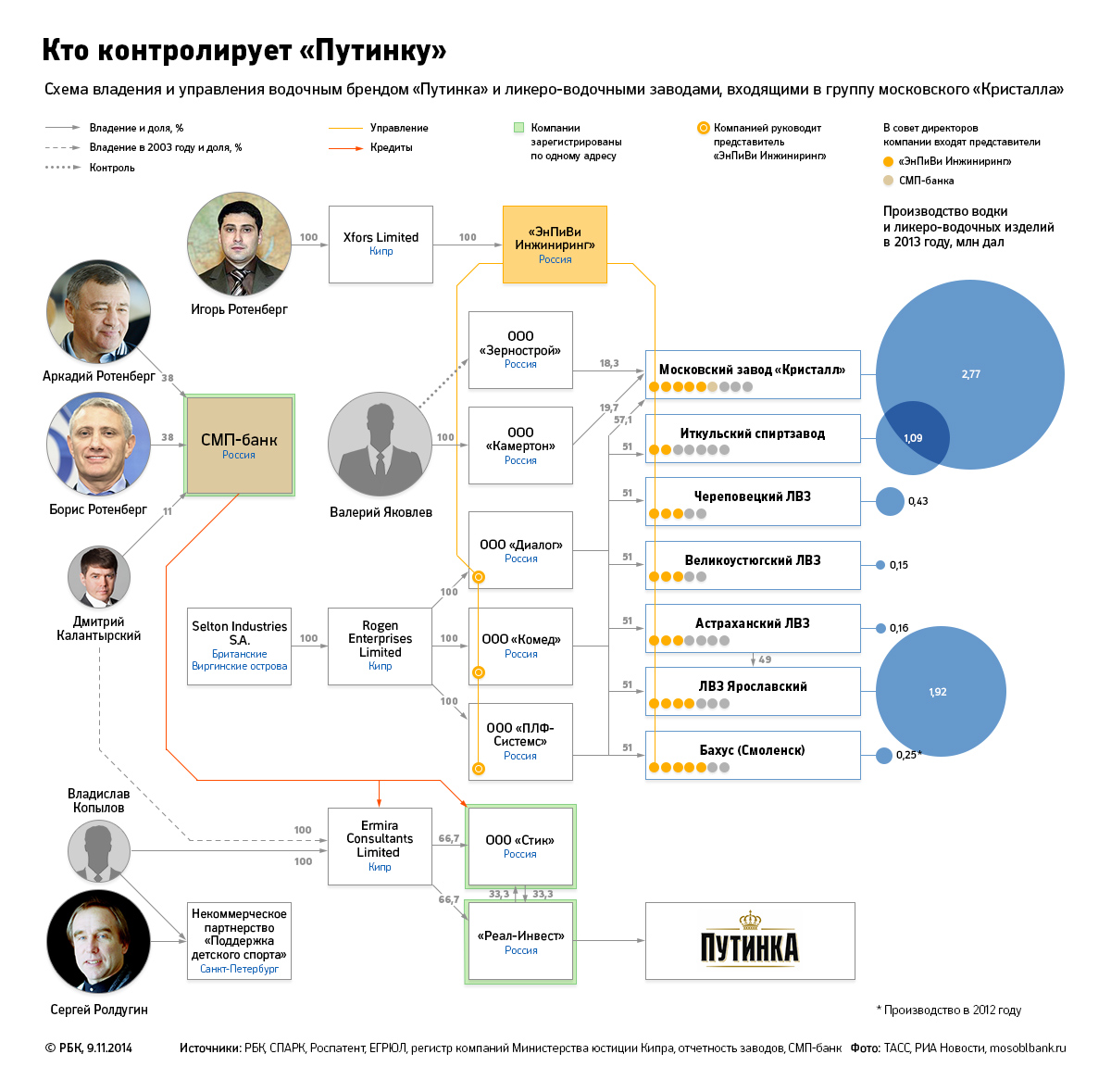 The annual report of Ermira Consultants demonstrates that in 2012 the company took a credit of €6 mln from Olpon Investments, which is owned by Arkady Rotenberg and was at that time managed by him, and earlier it provided a credit with an interest rate of 2.9% to Elena Ruzyak from SMP Bank.
Arkady Rotenberg's representative told the Interfax agency in 2016 that the businessman had no connection to Ermira Consultants whatsover.
Ermira Consultants owns more than just the alcohol manufacturing facilities. It also owns stakes in TV channels owned by the National Media Group. In 2009-2010, Ermira Consultants also provided credits to Rirus LLC (earlier known as Lirus LLC). Altogether, the Cypriot company transferred $100 mln. In 2013, the unpaid balance amounted to €20 mln. As you may remember, Lirus LLC was engaged in construction of the "palace at Idokopas Cape," which has been tied to Vladimir Putin.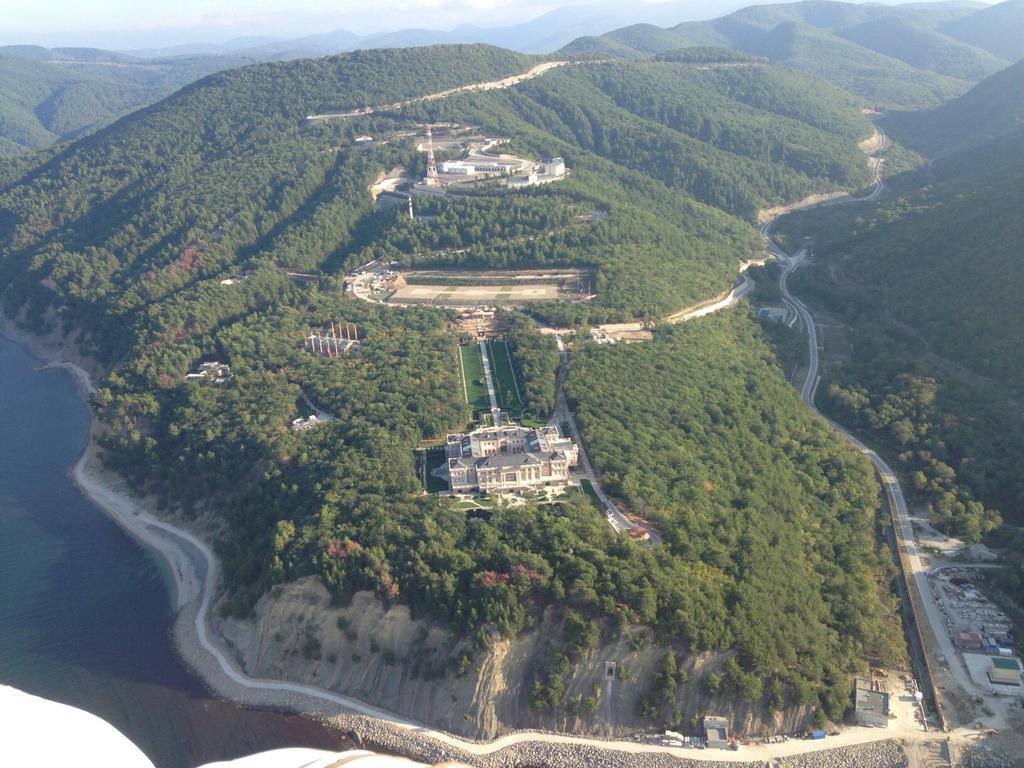 It should be noted that the use of "nominal officials" is nothing new in Rotenberg's practice. Even in Russia, he actively uses them through his managers, usually within the framework of the Legal Bank Support JSC, which is 25% owned by SMP Bank.
All of Rotenbergs' offshores are fronted by nominal Cyrpiot secretaries and directors. The key companies managed by them (Netiva Ltd, Belserve Consultants Limited, Vaspaco Properties Limited, Normax Holdings Limited, Normax Management Limited, Dibelia Ltd, Zoulian Limited and others) are masterminded by the Cypriot law firm Kinanis LLC, its employees and their relatives.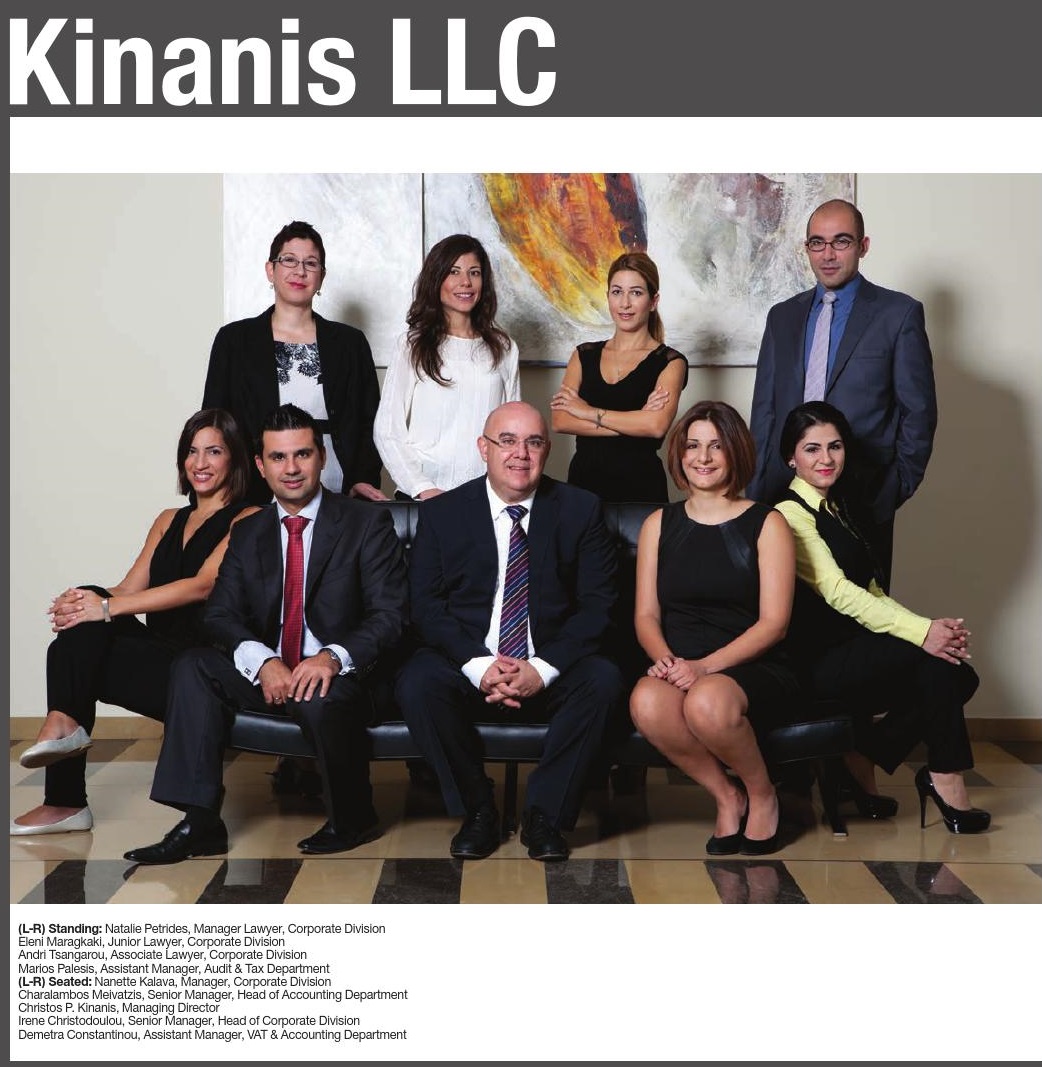 Christos Kinanis, a graduate of the Cambridge University, founded Kinanis LLC in 1983. The company offers a range of services: accounting and VAT administration, aviation and navigation, financial services, migration, real estate, courts, taxation, trusts, and even long-distance gambling.
Next to Kinanis LLC is always another company, I.Christodoulou & Partners LLC, established by the employees of Kinanis LLC Andri Tsangarou and Irene Christodoulou. The employees of Kinanis LLC actively use their relatives to register them as nominal directors and owners. For example, Christos Kinanis registered over 300 companies in the name of his father, Panagiotis Kinanis, born in 1932, or transferred them "under his management". Another active "nominal official" in this family is Christos' sister, Eleni P. Kinani (ΕΛΕΝΗ Π. ΚΙΝΑΝΗ).
Andri Tsangarou (ΑΝΤΡΗ ΤΣΑΓΓΑΡΟΥ) also actively uses his relatives as "nominal officials": their names are Androulla Tsangarou and Marianna Tsangarou.
It just so happens that the Cypriot Minister of Justice, the Vice President of the DISY political party Ionas Nicolaou is married to Maria Kinani-Nicolaou (Μαρία Κινάνη-Νικολάου), who also works at the Cypriot Parliament.
Ionas Nicolaou has been the minister since February 2013. In February 2016, OCCRP (Organized Crime and Corruption Reporting Project) reported on the Cypriot authorities' failure to act and investigate money embezzlement as part of the "Magnitsky case." But in 2015, there was a shakedown at the Cypriot law firm connected with the Hermitage Capital fund.
In October of 2016, Ionas Nicolaou hosted Russia's legendary Prosecutor General Yuri Chayka.
And in January of 2017, Ionas Nicolaou visited Moscow, where partook in the celebrations of the 295th anniversary of the Russian Prosecutor General's office.
By studying the Facebook profile of Mrs. Maria Kinani-Nicolaou, we discover not only the minister husband and her daughters,
But also see the already familiar representatives of the Kinani family: the founder of Kinanis LLC Christos and his sister Eleni. There's no doubt that the wife of the Cypriot Minister of Justice is a close relative of Christos Kinanis. We've venture a guess that she is his sister.
As you may remember, in July 2016 the Cypriot Parliament passed a resolution in favour of removing the anti-Russia sanctions.
The deputies explained their intention by the dramatic drop in trading volumes and the weakening of friendly ties with Moscow.
To sum up:
Arkady Rotenberg sends his longtime assistant Dmitry Kalantyrsky to the Czech Republic, and Kalantyrsky opens companies there and buys hotels in Austria;
After the sanctions are enacted, the Cypriot companies are re-registered in the names of new owners and managers. Part of the assets is transferred to the British Virgin Islands;
Since 2003, Arkady Rotenberg's empire has been all-inclusively serviced by Kinanis LLC;
Employees of Kinanis LLC partake in laundering of exuberant sums of criminal money;
The Cypriot Minister of Justice Ionas Nicolaou from the DYSI ruling party is married to Maria Kinani, a close relative of the founder of Kinanis LLC Christos Kinanis, and this creates a conflict of interests;
The minister actively cooperates with Russia but blocks Western investigations because they involve family business.